Part I: The Chemistry of Aging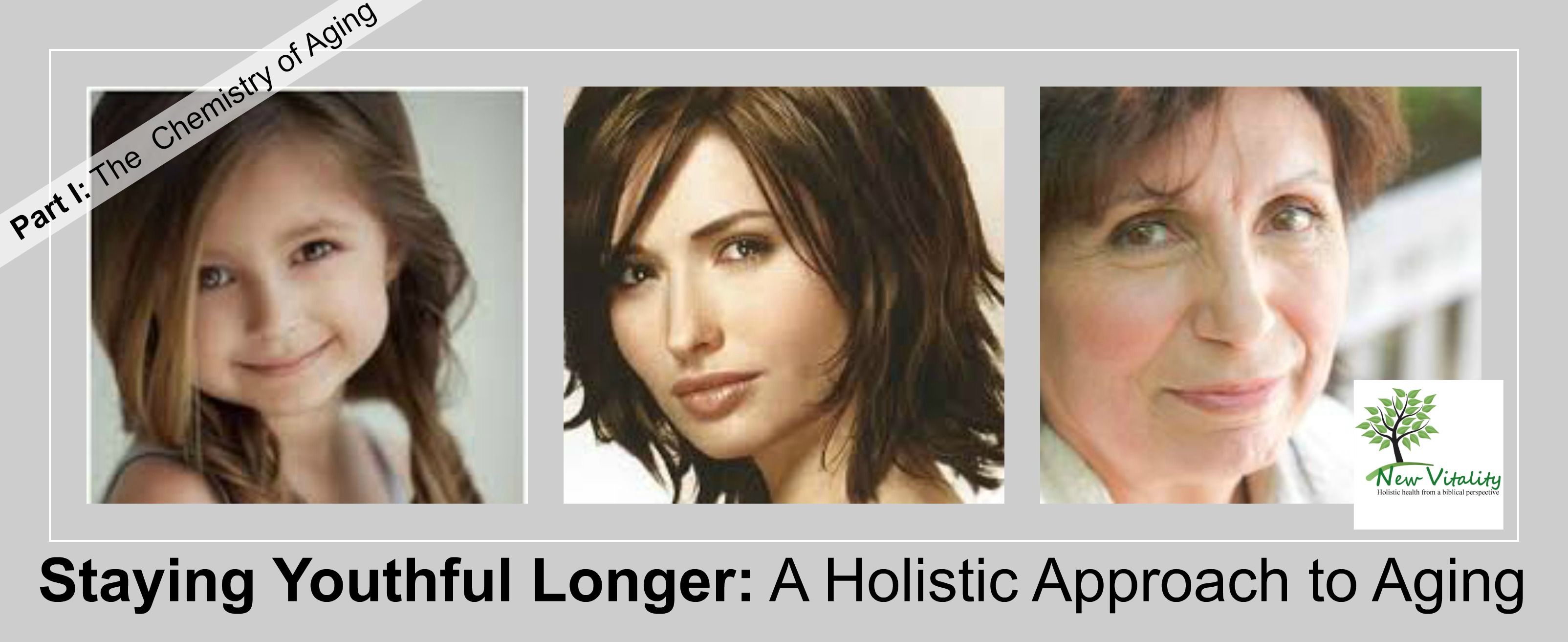 Recently I taught this material in a seminar format with Dr. Lance Zimney of Life in Motion Chiropractic & Wellness. This is the first in a series of five teachings, each dealing with one aspect of holistic healthcare that will rapidly slow down or reverse the aging process.
"How do we reverse the aging process?....we must return to a holistic, preventative lifestyle….we must get [balanced] where all nourishment and vitamins and minerals can be accepted by the body." (Source: June M. Wiles, Choose Life or Death, Preface, p.10, Dr. Carey A. Reams with Cliff Dudley, N.C.A., Inc./ Holistic Wholesalers, 2002.)
Dr. Carey A. Reams believed and taught that the biological terrain or environment of our bodies determines our health. If our biological terrain is out of balance, then illness will manifest, eventually leading to degenerative conditions. Biological Terrain is measures our ability to process sugars and digest proteins. It also determines the mineral balance in our bodies and how the effect that balance has upon our heart function. Cell debris and the pH of our urine and saliva also tell us how healthy our bodies are. Dr. Reams was a brilliant mathematician, engineer, biochemist and ordained minister. He developed an equation that combines the above five measurements to determine the rate at which we are aging. pH, the final number mentioned above indicates the structural integrity and fluidity of our bodily tissues. The optimum range for pH is debatable, and there is much controversy about the correct range; however, according to my training, 6.4 to 6.5 is the optimum pH for both urine and saliva. The range for urine is an average, as this number should rise from 6.0 to 7.0 throughout the day, and the range for saliva is static at 6.5 all the time.
In our culture, there is much talk about having an alkaline pH versus and acid pH, so we Americans know that our pH is typically too acid. This is due to the processed foods we eat, such as white flours and sugars, preservatives, fast food, etc. But what most people don't know is that while Americans may need to BECOME more alkaline in pH, we don't want to BE alkaline in pH. An imbalance of excess alkalinity can wreak havoc on our bodies just as much as excess acid can do! The key is BALANCE!
Excess acidity can affect the following body systems:
Circulatory

Cardiac

Structural

Urinary

Hair, skin and nails

Digestion

Glandular/ hormonal

Oral and dental health
Additionally, with an acid pH, we are more likely to have a serious illness because, as Dr. Reams taught, all disease stems from a pH imbalance. "A recent seven-year study conducted at the University of California, San Francisco, on 9000 women showed that those who have chronic acidosis are at greater risk for bone loss than those who have normal pH levels. The scientists who carried out this experiment believe that many of the hip fractures prevalent among middle-aged women are connected to high acidity caused by a diet rich in animal foods and low in vegetables. This is because the body borrows calcium from the bones in order to balance pH." (Source: American Journal of Clinical Nutrition, 2001.)
Excess alkalinity (over 6.5) leads to issues with:
Digestion

Tissues, skin and structure

Liver

Body odors

Pathogens

Allergies

Mental stability, clarity, headaches/ migraines
So, as you can see, BEING alkaline is not the answer to American health issues; being BALANCED is the key!
The next part in this series will deal with the first factor related to attaining and maintaining a balanced pH.
L'chaim-- To Life!